welcome to the studio
I'm Hope: an artist on an unexpected journey of living and healing though beauty.
I specialize in watercolor paintings that evoke peace, and work in the Dallas/Fort Worth, Texas area.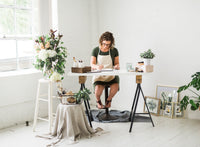 about me
My work exists to bring moments of light and hope to the world – to create beauty that lifts us up and nourishes our heart and home – so that the ties that bind us to the good, true, and beautiful can flourish.
Read more